Is Carl Icahn right about PayPal?
January 23, 2014: 3:15 PM ET
The billionaire investor's desire to see eBay spin off its online payment network, PayPal, could very well unlock significant shareholder value.
By Cyrus Sanati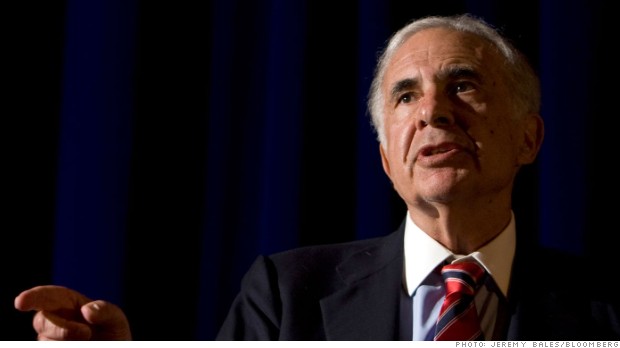 FORTUNE -- Carl Icahn, the billionaire activist investor, has been interested in technology lately. Wednesday, he made several TV appearances to reiterate his call for tech giant Apple (AAPL) to engage in a massive $150 billion share buyback. As usual, he demonstrated that he was willing to put his money where his mouth was, revealing that he had upped his stake in the company by $500 million to $3 billion, causing Apple's stock to jump 1%.
Then, after the bell, eBay (EBAY) revealed that Icahn had built up a stake in the online auction retailer and was pushing for some radical changes. But in this case, though, Icahn wasn't interested in buybacks -- he was looking for a breakup. Ebay said Icahn wanted the company to spin off its online payment arm, Paypal, and had requested two seats on eBay's board. eBay rejected both of Mr. Icahn's proposals.
eBay said that Icahn amassed an equity stake equal to 0.82% of its outstanding shares, which, while worth millions, is small compared to the stakes he usually builds in companies before he calls for changes. While such a small stake makes it difficult for eBay to be persuaded to give Icahn a couple of seats on its board, it shouldn't dismiss Icahn's views regarding a possible Paypal spin off.
Paypal has grown from its roots as a small payment processor helping buyers and sellers of Beanie Babies feel safe to do business on eBay, to a full-on payment alternative for thousands of merchants with millions of members. Its advantage in many cases is simply speed and convenience -- how many times have you clicked the Paypal button while checking out of an e-commerce store just because you didn't want to get off the couch to grab your credit card?
MORE: Lessons from the death of a tech Goliath
Paypal owes most, if not all, of its early success to its relationship with eBay. Paypal probably wouldn't have gained that critical mass of members needed to build an effective and safe payment platform if it weren't for eBay basically forcing its members to sign up. At the same time, eBay may not have grown as fast if it weren't for the protection and various payment features Paypal provides. Given this, it is easy to see why eBay's board considers Paypal to be a critical and symbiotic part of its business.
But symbiotic relationships are often destructive -- in eBay's case, destructive to shareholder value. Since John Donahue took over from Meg Whitman as chief executive of eBay in March of 2008, eBay's stock has increased around 75%. That's nothing to sneeze at, but it lags gains seen in the shares of other e-commerce sites, like Amazon (AMZN), which was up roughly 460% during the same time period, as well as other payment networks, like Visa (V), which was up 250%. The story isn't any better closer in. In the past year eBay's shares have been flat while Amazon was up 56% and Visa was up 48%.
eBay is also lagging when it comes to valuation. The company as a whole trades on a multiple of nine times next year's enterprise value divided by earnings (or ev/ebitida), which measures a company's return on investment. Meanwhile, the payment operators, like Visa and Mastercard (MA), trade roughly at 15 to 17 times next year's ev/ebitda, or around 40% higher than eBay. E-commerce sites also trump eBay's numbers with Amazon trading at around 33 times next year's ev/ebitida and Groupon (GRPN) trading at around 17 times.
So what's with the lag? One reason may be that eBay confuses fund managers. Its revenue is divided between its marketplace business, which is growing at in the low teens, and its PayPal business, which is growing much faster at over 20%. When you have two disparate businesses growing at two different rates under one roof, you tend to scare away investors who usually look for more "pure play" businesses. Should eBay be part of a portfolio that focuses on e-commerce, or should it be in one that focuses on payment networks? Would it be considered a value stock or a high growth stock? The answer for all of those questions could be "yes," which means that eBay is likely being left out of many investors' portfolios. This lack of demand to own eBay stock may explain why it is lagging its peers.
MORE: Inside the world of one-click grocery delivery
As a part of eBay, Paypal is run by people who know tech and know retail, not by people who necessarily know payment networks. As such, Paypal's growth beyond the web may not be as successful as it could be if it was led by people who worked at a credit card company like American Express (AXP) or a global payment provider like First Data Resources.
For example, while eBay has been successful in getting Paypal accepted online it has had trouble replicating that success at brick-and-mortar stores. With 100 million members, merchants should be jumping up and down to get Paypal, but so far, only a few have agreed to accept it. That's because checking out with Paypal at a store is a bit complicated and requires extra steps, which defeats the point of using Paypal in the first place. Being an online payment service is far different than being one offline, something that appears to have been lost on PayPal's management. Furthermore, eBay is using Discover's (DFS) payment network to authorize transactions, meaning that it is giving up a great deal of revenue. PayPal has the capability to become its own payment network and should be allowed to pursue that objective -- all of which is complicated within the confines of eBay.
eBay's management, though, thinks PayPal is best left alone. Their arguments have merit to some degree. For one, while PayPal derives just 30% of its revenue from eBay, it is still dependent on it for half of its profits. Also, eBay's aggressive international expansion is helping to grow PayPal's global presence, especially in countries like Brazil and Russia, where eBay is taking off. If the cord is cut too early the fear is that PayPal's international growth may stall.
MORE: Don't believe the tech bubble hype
Furthermore, eBay's stellar credit profile gives PayPal legitimacy as a reliable and trustworthy way to conduct payment transfers. Some banks, especially international ones, may not be as forthcoming in allowing a stand-alone PayPal to access its accounts. And eBay's credit profile and cash reserves gives PayPal access to low cost capital, allowing for critical acquisitions, like eBay's $800 million purchase of Braintree last year, which is expected to boost PayPal's presence in the critical mobile payment space.
But while PayPal is closely aligned with eBay, that doesn't preclude the possibility of it being able to survive and grow as a separate entity. Indeed, if the two do split, it will be in both of their interests to remain close partners. eBay could even own a large chunk of PayPal, similar to the 30% it retained in Skype after selling that unit off in 2009. But as an independent entity, PayPal's management would put the needs of the payment network above all other considerations, allowing the company to grow outside the eBay construct. PayPal could then concentrate expansion efforts not just where eBay is popular but also in places where it isn't, like China. PayPal owes its life to eBay, but that doesn't mean it should be imprisoned in it forever.