China's Yuan Finished 2013 at a record high to the U.S. Dollar. What's next?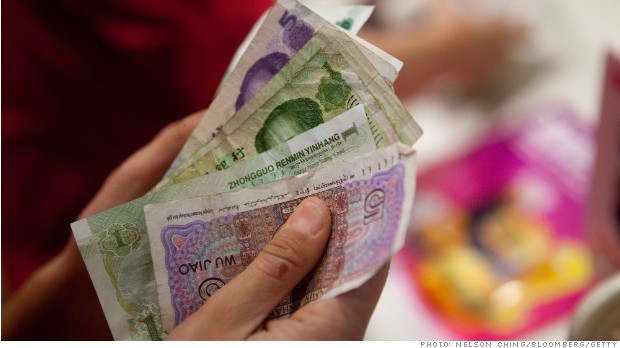 FORTUNE -- What happened: Last year China's currency reached an all-time high against the dollar, gaining 3% to hit 6.05 yuan per dollar. It capped a nice eight-year run since 2005, when the currency finally dropped its strict peg to the dollar. Since then, the liberalized yuan has risen by 35%.
Why the rise?
The global economy grew, and Chinese exports expanded in 2013. That's it, more or less. But it's never so easy in China because the central bank keeps tight control over the yuan by basically preventing trade imbalances from driving up the yuan's value too much. (China adsorbed net inflows of 387 billion U.S. dollars last year, according to Deutsche Bank.) For technical reasons, China allows the yuan to trade (you can buy yuan futures on the Chicago Mercantile Exchange), but strict limits are imposed so the currency can't move dramatically day to day.
Why it matters
China is in the middle of a rebalancing act, as Michael Pettis, professor of finance at Peking University's Guanghua School of Management, has eloquently pointed out. The yuan's rise is important to China's future, but it can't rise so fast that it imperils China's present. Pettis says the country must let the yuan's value increase so that the real value of household income relative to GDP expands. That is, the higher the yuan's value, the lower the price of imported consumer goods -- and all goods face some kind of import cost. "Even if you're drinking cup of Chinese tea [in Beijing], that had to be transported from Yunnan using oil, steel, trucks, so you're always importing," Pettis says. The flipside is, the more the yuan rises, the less attractive China's exports become to overseas buyers, because a strong currency increases the price foreigners pay for Chinese goods. The government must decide how much wealth it wants to transfer from manufactures to households by letting the yuan rise. Pettis believes if China revalues slowly, the balancing act will play out smoothly -- Chinese exporters gain new domestic customers as they lose overseas ones. But it's too early to say if that's happening. "Who knows whether this is the right pace or not," says Pettis, adding, "It seems to be reasonably successful."
What else really matters?
The yuan's rise is important to China and the world. Just ask any politician in the U.S. who has manufacturers in their district. But what if we're missing the bigger picture, which is not how high the yuan will eventually rise, but rather, can China rebalance another major financial concern: the extreme loads of debt in its economy. George Soros gave his take on China's debt problems earlier this month in a Project Syndicate column. He said when China's central bank took measures to curb excesses in 2012, the economy showed distress. So in 2013 it eased credit, and poof, the economy picked up. "There is an unresolved self-contradiction in China's current policies," he wrote. "Restarting the furnaces also reignites exponential debt growth, which cannot be sustained for much longer than a couple of years." After that, China's political and economic reforms have to kick in and improve the situation. The yuan's moves will likely be consequences of the path China chooses.
The yuan's next big event
Its rise in 2014. The same time next year we'll know what the Chinese have accomplished. Did they stay on a steady path, allowing the currency to rise 2-2.5% in 2014 like most Wall Street economists predict today? Or maybe they let it strengthen more, transferring more wealth to households. We'll sort it out in another year.